When it comes to showcasing products in a retail environment, freestanding display racks are an essential tool. Not only do they provide a stylish way to display merchandise, but they also help maximize the use of space and draw attention to specific products. And with custom designs, these display racks can perfectly complement any fashion store.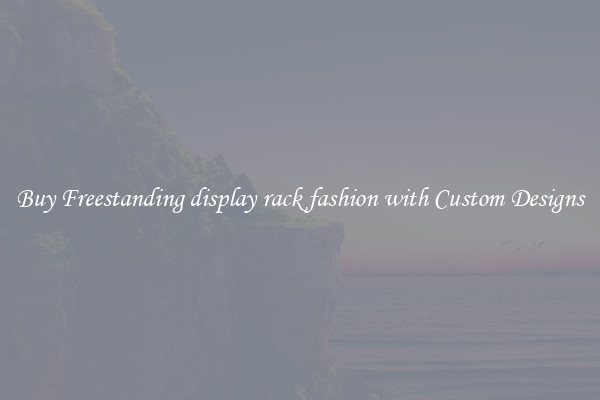 One of the biggest advantages of freestanding display racks is their versatility. Whether you need to display clothing, accessories, or shoes, these racks can be easily customized to meet your specific needs. With various shelving options, hanging bars, and hooks, you can create the perfect display to showcase your fashion items.
In addition to their functionality, freestanding display racks can also be aesthetically pleasing. With a custom design, you can choose the colors, materials, and finishes that match the overall theme and branding of your fashion store. This will create a cohesive and visually appealing shopping experience for your customers.
Moreover, these racks offer ample space for branding and signage. By incorporating your store's logo or tagline into the design, you can strengthen your brand presence and make a lasting impression on your customers. Additionally, you can add signage that highlights sales, promotions, or specific product features, further engaging and informing shoppers.
Custom display racks also allow for easy rearrangement and reconfiguration. As fashion trends evolve and new merchandise arrives, you can easily adjust the layout of your display to accommodate the changes. You can experiment with different configurations, such as arranging racks in a zigzag pattern or creating a focal point in the store. This flexibility ensures that your products remain visually appealing and attract customers' attention.
Furthermore, freestanding display racks can help optimize space in your store. When floor space is limited, these racks make efficient use of vertical space. By utilizing different levels or incorporating adjustable shelves, you can display a larger quantity of products without cluttering the store. This creates a more organized and enjoyable shopping experience for your customers.
Lastly, custom freestanding display racks can contribute to sustainability efforts. By choosing eco-friendly materials and opting for reusable and recyclable components, you can reduce your store's environmental impact. This aligns with the growing consumer preference for sustainable and ethically-conscious brands.
In conclusion, freestanding display racks with custom designs are an excellent investment for any fashion store. They not only showcase your products in an appealing and organized manner but also contribute to a positive shopping experience. By incorporating your store's branding, optimizing space, and considering sustainability, these display racks are an essential tool for promoting your fashion merchandise.